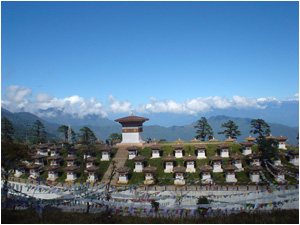 Bhutan as a Travel Destination
You will discover in Bhutan, known as the Land of the Thunder Dragon, true mystical bliss enveloped in all its natural splendour. Also known as a trekker's paradise and an environmentalist's dream, over 70 percent of Bhutan's landmass of 38,394 sq. km are under forest cover thus creating a haven for rare and endangered flora and fauna.
Bhutan combines a fine blend of the old with the new. Here is a country that has slowly opened up to the modern world in a fine balance with its ancient traditions.
This spiritual land is the last bastion of Vajrayana Buddhism, which provides the essence of a unique identity for the 750,000 people.
Those fortunate enough to visit Bhutan describe it as a unique, deeply spiritual and mystical experience. This kingdom is an adventure like no other.