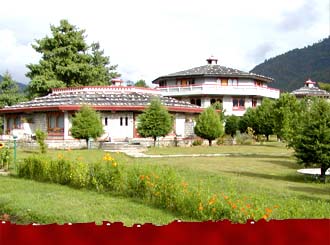 Location: Lamgong, 5 kilometers north of Paro town along the Paro river

Class: A

Description: The group of elegant cottages that makes up the Resort, is spread over an area of 7 acres. The uniquely designed cottages sprawl in a landscape carefully designed to allow for individual privacy in an open environment.

The constant sound of the river coupled with the whisper of pines makes your stay, indeed, a memorable one.

The Resort prides itself as a doorway to the essence of Bhutanese hospitality, where the warmth and comforts of a friendly service is a norm. Besides the 49 cozy rooms and 2 suites, the Resort provides conference and recreation facilities, boating in natural lakes, indigenous stone bathing, sauna and an ayurvedic center. All these are topped by the service of an experienced kitchen staff, tempting you to indulge in delightful cuisine, be it Bhutanese, Continental or Chinese.